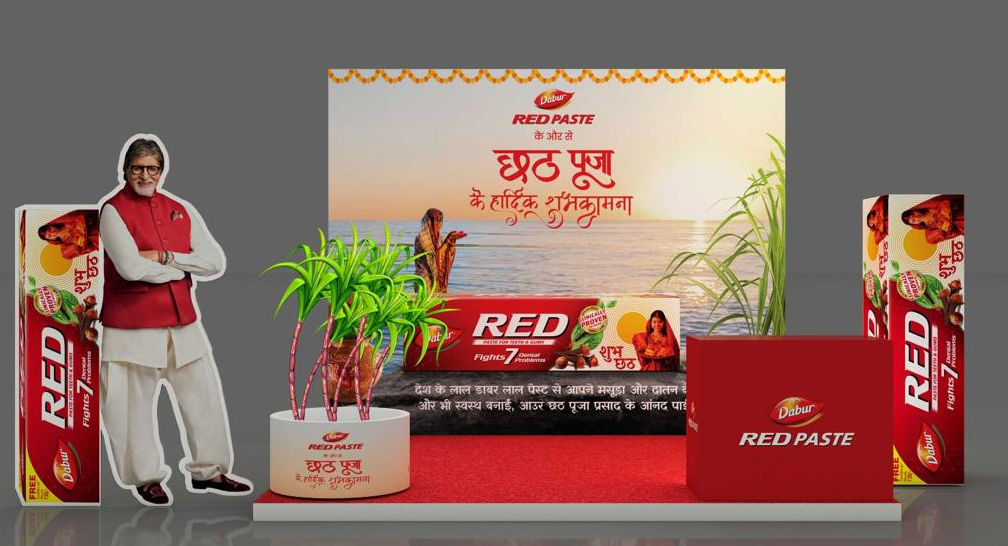 New Delhi, November 15, 2023: World's number one ayurvedic toothpaste brand Dabur Red Paste today announced the launch of a special festive pack to mark the auspicious occasion of Chhath Puja. This limited-edition pack is designed to add an extra touch of joy and freshness to the celebrations of Chhath Puja, a significant festival observed in Bihar, Jharkhand, and Eastern Uttar Pradesh.
The special pack features a unique blend of traditional ingredients, capturing the essence of Chhath Puja and bringing a refreshing twist to oral care rituals during this festive season. Dabur Red Paste aims to make oral hygiene a seamless part of the cherished traditions associated with Chhath Puja.
"We are delighted to introduce this special festive pack as a token of our respect for the cultural heritage and traditions of the regions where Chhath Puja holds immense significance. Dabur Red Paste has always been committed to promoting oral health in harmony with local traditions, and this launch exemplifies our dedication to that cause," Dabur India ltd Marketing Head-Oral Care Mr. Daniel Augustus said.
The special Chhath Puja edition of Dabur Red Paste will be available in select markets of Bihar, Jharkhand, and Eastern Uttar Pradesh. Consumers can look forward to a delightful blend of tradition and modern oral care for a refreshing Chhath Puja experience.
About Dabur Red Paste: Dabur Red Paste, World's No.1 Ayurvedic Toothpaste is a perfect amalgamation of Ayurveda proven with modern science making it the perfect solution for your Oral Care. Dabur Red Paste is packed with the power of 13 active Ayurvedic ingredients like Laung, Pudina & Tomar among others that keep your dental problems away. Dabur Red Paste is clinically proven to fight 7 dental problems like toothache, plaque, bad breath, yellow teeth, cavities & gives three times better gum care than an ordinary toothpaste.
About Dabur India Ltd: Dabur India Ltd is one of India's leading FMCG companies. Building on a legacy of quality and experience for 139 years, today Dabur is India's most trusted name and the world's largest Ayurvedic and Natural Health Care Company. Dabur India's FMCG portfolio includes nine Power Brands: Dabur Chyawanprash, Dabur Honey, Dabur Honitus, Dabur Lal Tail and Dabur PudinHara in the Healthcare space; Dabur Amla, Vatika and Dabur Red Paste in Personal Care; and Réal in the Foods & Beverages category.